︎︎︎ A THROW OF THE DICE
Nina Gospodin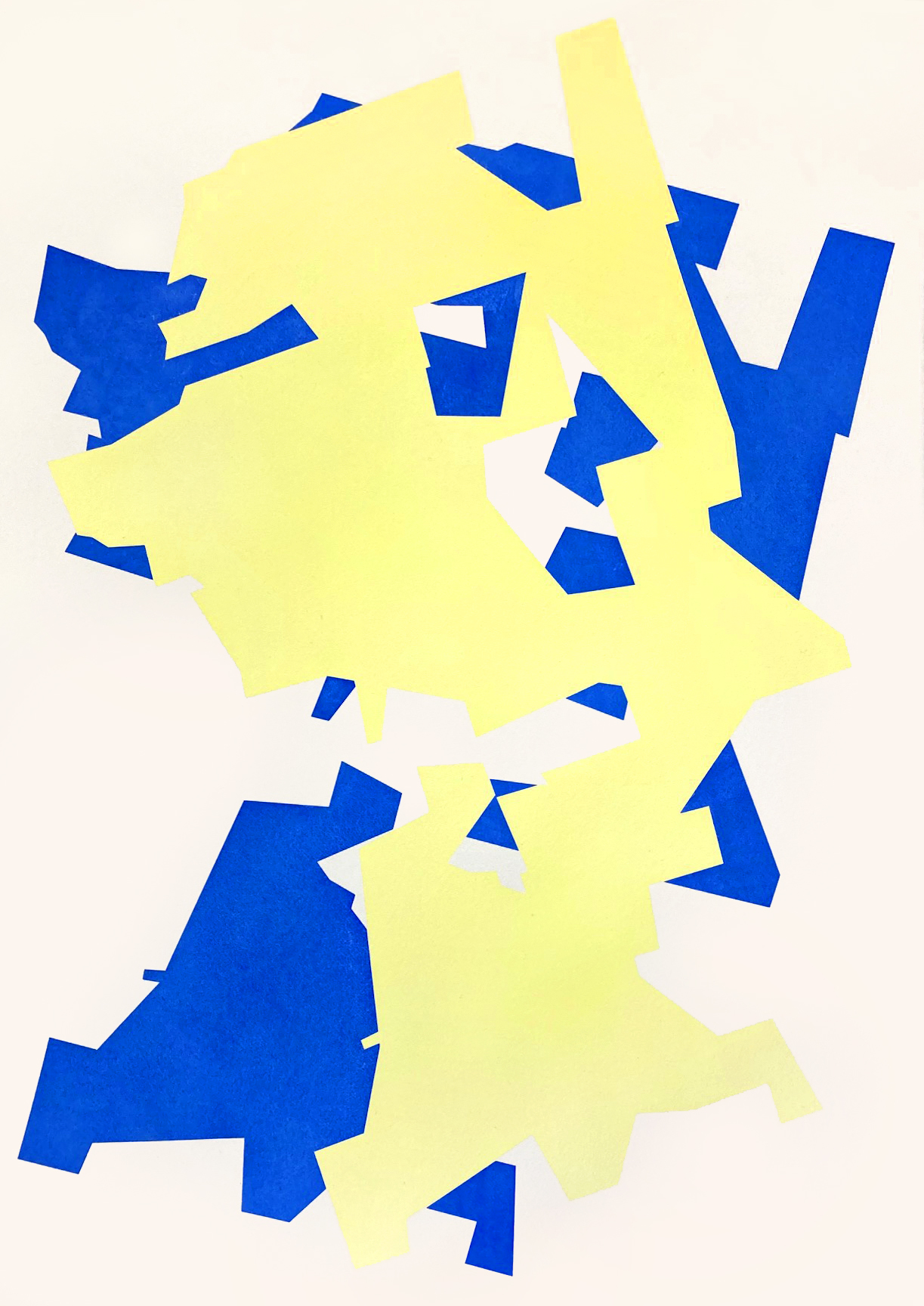 Nuovi Angoli. Nuove Forme g#26
2021
Watercolor on paper
30" x 22.5

Tools for Nuovi Angoli. Nuove Forme: Stencil of Shape no. 2
2018
Transparent paper
25" x 16"

About the work
My serial approach often begins in creating a tool or a procedure. It allows me to start from an initial concept, a set of rules or boundaries into an open process. On shaping materials step by step, I am able to discuss these rules, question primary outlines, push boundaries and explore how, on a material level, these decisions influence transformation. I am able to build up complexity without having a fixed idea of the outcome. Most of my work is inspired by ideas of scientific management, efficiency, productivity and formalisms on the one hand and phenomenological experiences, color nuances, materiality, pace and sensuality on the other hand. To explore coherences between freedom and function is important to my practice.

In this show, you can see three elements. First, there is a watercolor painting from the series "Nuovi Angoli Nuove Forme." The series is based on an elaborate stencil system, originally created from 16 base paintings. The stencils allow me to discover paintings with every layer of color. With each new surface, I question the work to decide how to proceed. Gradually, in this process, I develop the painting, repeatedly inquiring the work in a process resembling the form of a dialogue. With the second element, a stencil itself has been freed from its function and is exhibited as an object equal to the painting. The transparent paper stencil tends to fold into the third dimension. The third element, however, is a three dimensional object of the stencil shape, cast out of paper.
Nina Gospodin
is a German multidisciplinary artist, podcaster and writer. She has a Bachelor of Fine Arts from University of Applied Arts Vienna, Austria and studied at Accademia di Belle Arti di Venezia, Italy. She also has a Master's degree in process engineering, which she could partly complete at The Cooper Union in New York City. With a strong focus on painting, her body of work is characterized by her research on freedom and function in structures, identities and materials as well as the tools and procedures she creates for her explorations. In 2020, she was invited to participate in the first edition of The Artist Residency Project at School of Visual Arts in New York City and she is a member of the international artist collective I Found U.
Website