︎︎︎ A THROW OF THE DICE
Allison Hunter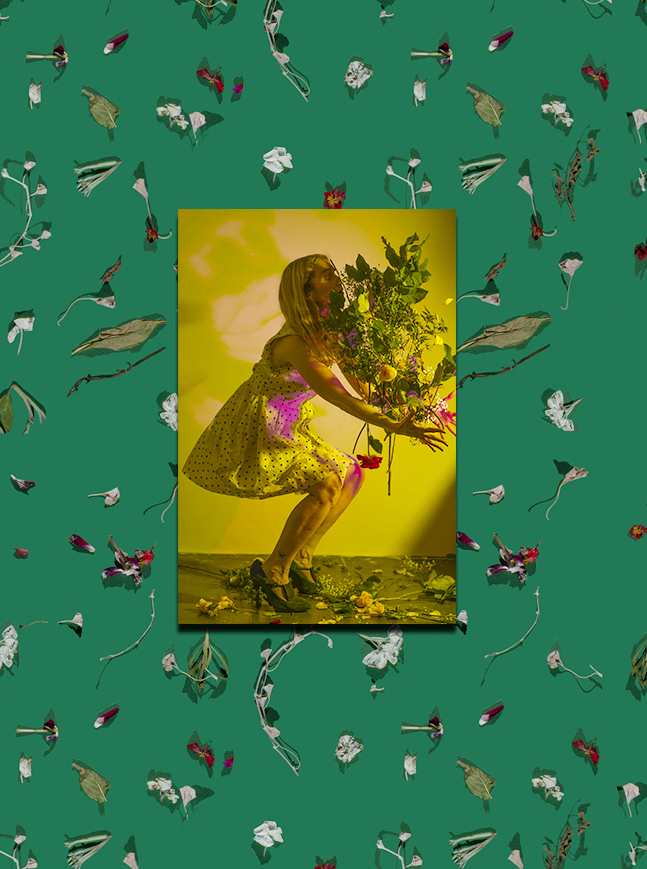 About the work
This installation combines photographs from two series that I began at roughly the same time in 2020. The wall vinyl is based on a photograph from my "Prunings" series that features flat-lay wilted petals from my #Covictory garden. The mounted photograph is a recent work from my ongoing "Sleepwalkers" series of performative portraits I began in 2019. By combining these two works, I am interested in how they speak to the complex construction of gender and identity.
About the Artist
I am currently based in NYC at the Elizabeth Foundation for the Arts art studios in midtown Manhattan. Born and raised in New Jersey, I have lived in New York, Texas, Paris, and Lausanne, Switzerland. I attended Rensselaer Polytechnic Institute in Troy, New York (MFA 1997, Electronic Art) after graduating from the
Ecole Cantonal d'Art de Lausanne
, Switzerland (
Diplôme
, 1990, Drawing/Photography). I have won four Individual Artist Grants and a large-scale commission from the Houston Arts Alliance since 2006. I had solo exhibitions at the North Carolina Museum of Art (Raleigh), Women & Their Work (Austin), DiverseWorks (Houston), and 511 Gallery, (NYC). Collections holding my work include the Center for Photography at Woodstock, the Art Museum of the University of Albany, and the Museum of Fine Arts, Houston among others.
Website